Shontal 1705 CIC Ltd.
Shontal are a not for profit organisation that specialises in 'Financial Literacy using Live Theatre'. Working across the community, our aim is debt prevention through education. Each piece of work is based on the principles behind TIE 'Theatre in Education', hard to teach subjects for hard to reach groups, facilitated by a debt specialist with 20 years experience working in the 'Free Advice Sector'.
The Mission
We are able to offer sessions to groups small and large. Our last performance of 2017 was our 900th, having performed around the country and beyond. Our work is highly interactive and we aim to send the audience home with a smile on their face and plenty to think about.
Please feel free to contact us to discuss how we can help.
"Bust"
...is the story of Tanya and Keith. A normal couple with a young son and a baby on the way who manage to attract an impressive portfolio of debt, most of it because of changing personal circumstances.
We witness their journey into debt through meetings with a variety of characters including Edith the doorstep lender, an unethical banker and a very persuasive shop assistant as well as an old school friend offering good advice and their own interaction at home. Then Tanya encounters a visitor from beyond the grave who shows her the error of her ways.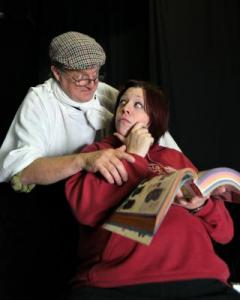 Current Projects
Upcoming Events
11th May 2018
Bolton Money Skills
1st June 2017
Hexham Community Group
8th November 2016
Stockton Riverside College
4th April 2016
Accrington BL IFC Project
17th March 2016
Dame Allans School
Latest News
Future is bright
5th June 2017
We can announce Shontal is about to expand, we... more...
Pay Ahead Stay Ahead Birminghams BL IFC
10th April 2016
April 2016 Three Year Project Comes to an End... more...
Accrington BL IFC week
24th August 2015
24th to 28th August Play in a week with a group... more...