Schools/Colleges
"One Family's Story" - Financial Literacy using live theatre
Our work is based firmly on the principles behind TIE - 'Theatre in Education'. We show how people manage their money and how sometimes we all struggle to manage.
In this powerful and thought-provoking drama. Shontal take the theme of money and relationships and allow students into the world of a father and daughter as they grapple with money, budgeting and rising debts. As the drama develops, students are drawn into the financial challenges being faced by thousands of families across Britain and are able to take a direct role in confronting and resolving a family crisis as the characters struggle under the pressure of money worries.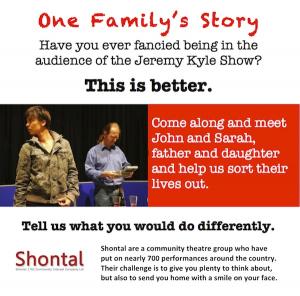 Developed with the input of pfeg (Personal Finance Education Group), North Tyneside Business Education Partnership, Tynemouth College, and local teachers, the drama offers students a highly memorable, relevant and timely learning experience which they will never forget.
One Family's Story brings together the Shontal team of experienced actors who thrive on interaction with the audience, and a facilitator who can deal with any of the money questions and issues that students might raise. The production enables the audience make judgements about characters and their motivations and, using flash forward techniques, shows how money matters can spiral out of control. As the actors and facilitator bring the action back to the present, the audience rewind the action and can rewrite the script and see a new future come to life.
One Family's Story has now been presented over 300 times and the fast moving format effectively signposts the audience to sources of support. It is hard hitting and memorable, and always sends people home with a smile on their face.
What we offer
Our programme is designed to fit easily into the school schedule. The performance is available as a stand alone interactive event or as part of a 1 hour and 40 minutes personal finance related workshop.
The show on its own lasts around one hour (generally fitting into one school lesson)
The full workshop lasts two hours, offering the show, followed by interactive lessons and a chance for some of the audience to try their hand at a bit of acting.
What we need
We travel light and do not require a lot of space for the performance. We prefer to be on the floor of any hall/room we perform in order to be close to the audience for the interaction with them.
Breakout rooms will be required for the full workshop programme. The amount will depend on the size of the audience.
Who are Pfeg?
pfeg (Personal Finance Education Group) is an independent charity helping schools to plan and teach personal finance relevant to students' lives and needs.
pfeg provides free support, resources and expert consultancy to teachers and school leadership teams.
To make sense of the options open to them in adult life and become responsible consumers, children and young people need to learn to manage money - now.
How we help
pfeg's website, www.pfeg.org is a one stop shop for ideas, resources, news and guidance on teaching financial capability.
What do previous audiences say?
"After watching Shontal's actors and director work with a group of teachers, I knew that this theatre group could make a significant contribution to pfeg's work in developing personal financial education in schools and I am delighted that they have been able to work in several schools in the North of England in partnership with pfeg consultants in recent months."
Shontal were in for our Year 9 Activities Day today and were excellent. The students really enjoyed the workshop and the cast enjoyed working with them too. .. I would really like to book the same again for next year...big thanks to the company of Shontal. We really enjoyed the day." (Dame Allan's)
"Just a quick note to say how much year 8 (and staff) enjoyed the theatre performance on Friday." (Tweedmouth Middle)
"We had Shontal in today and they were excellent... a lot of discussion was stimulated which we intend to follow up in the next 2 Seal sessions with years 7 and 8." (The Dukes Middles School)
Who We've Worked With:
Middlesbrough College
Trinity College
pfeg (Personal Finance Education Group)
Carmel RC College
Clifton A Community Arts
Mortimer Community College
Pinderfields
Gosforth High School
Blyth Community College
Burnside High School
Almondbury High
Dame Allans
Berwick
Tudhoe Grange
St Cuthberts (St Helens)
Buile Hill (Salford)
St Andrews (Cleethorpes)
Norham, Whitley Bay
George Stephenson (North Tyneside)
Richard Rose (Carlisle)
Lytham St Annes
St Benet Biscop (Northumberland)
The Dukes (Alnwick)
Dearne High (Rotherham)
Ravenshall (Dewsbury)
Settle (Cumbria)
St Joseph's (Bradford)