Community Groups
Shontal has worked with many community based groups. Using the medium of theatre we bring home the reality of people struggling with debt. We have a variety of fast moving short plays which utilise drama and humour. These can be incorporated into any event to offer a change of pace, act as a catalyst for debate and this can culminate in workshops based around personal experience and perception of debt and financial exclusion.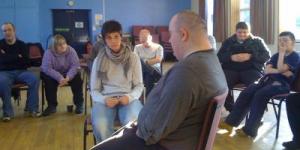 Within the body of the play we seek opinion and advice from the audience as a whole, and only afterwards might we ask for a few volunteers to help us show some of the characters or scenes that were not included during the show.
Each show takes around an hour. The shows are scripted and rehearsed but never the same twice, as the audience affects the flow of the action; this means that the actors have to think on their feet. The follow up workshop can incorporate many aspects of money management, from budgeting to debt enforcement. At the end we bring back the volunteers for a short performance.
"Bust"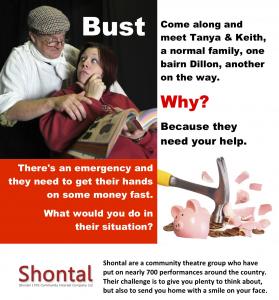 Shontal is a not for profit organisation working in partnership with community groups to promote financial inclusion.
Who We've Worked With:
CABs:
Gateshead
Debt Advice Within Northumberland
Kirklees
Richmondshire
Knowsley

Childrens Centres:
West Middlesbrough
Greenacres
Cramlington

Credit Unions:
UKCU
Pioneer
Tees
Moneywise
Prisons:
HMYOI Deerbolt

Local Authorities:
Gateshead
Middlesbrough
Darlington
Newcastle
Redcar & Cleveland
South Tyneside
Darlington
Bolton
Sunderland
Knowsley
Helping Long Term Unemployed:
CSV Blyth
Connections Northumberland
A4e
Other Groups and Institutions:
Keyring Living Support Networks (helping adults with learning difficulties to live in the community)
North East Counselling Services
Leeds Debt Forum
FINCAN
National Illegal Money Lending Team
Northumberland
Tyne & Wear NHS Foundation Trust
Coronary Heart Disease Team
Blyth Young Peoples Centre
Key Project South Shields
Barnardos